The blog for teens who use the Durham Public Library. New books, new magazines, new graphic novels, new music, new audio books, library programs, and other news of interest to teens!
Saturday, January 5, 2013
Princess of the Silver Woods by Jessica Day George
When Petunia, youngest of the dancing princesses, is ambushed by bandits in wolf masks on her way to visit an elderly neighbor, the line between enemies and friends becomes blurred as she and her sisters get a chance to end their family's curse once and for all.

Seraphina by Rachel Hartman
In a world where dragons and humans coexist in an uneasy truce and dragons can assume human form, Seraphina, whose mother died giving birth to her, grapples with her own identity amid magical secrets and royal scandals, while she struggles to accept and develop her extraordinary musical talents.

Pretty Little Secrets by Sara Shepard
Rule number one of being an effective stalker: get to know your prey, the trouble they get into, the messes they make, and the secrets they keep. Hanna's desperate for a very personal session with her gym trainer. Emily is number one on Santa's naughty list. Aria's old flame from Iceland is about to land her in hot water. And Spencer's resorting to some backhanded tactics to get what she wants.

The Darkest Minds by Alexandra Bracken
Sixteen-year-old Ruby breaks out of a government-run 'rehabilitation camp' for teens who acquired dangerous powers after surviving a virus that wiped out most American children.

The Red Pyramid: The Graphic Novel by Rick Riordan
Brilliant Egyptologist Dr. Julius Kane accidentally unleashes the Egyptian god Set, who banishes the doctor to oblivion and forces his two children to embark on a dangerous journey, bringing them closer to the truth about their family and its links to a secret order that has existed since the time of the pharoahs.
Posted by

Miss Gardiner
at 5:00 PM
No comments:


Labels: Alexandra Bracken, dragons, fantasy, Graphic novel, Jessica Day George, Kane Chronicles, Pretty Little Liars, princess, prisoner, psychic, Rachel Hartman, Rick Riordan, Sara Shepard
Tuesday, June 5, 2012
We have two author birthdays to celebrate today, both fantastic authors with great books that you should totally check out :)
Happy birthday to Gayle Forman!
While in a coma following an automobile accident that killed her parents and younger brother, seventeen-year-old Mia, a gifted cellist, weighs whether to live with her grief or join her family in death.
Adam, now a rising rock star, and Mia, a successful cellist, reunite in New York and reconnect after the horrific events that tore them apart when Mia almost died in a car accident three years earlier.
AND!
Happy birthday Rick Riordan!
Tuesday, May 1, 2012
...are exciting! :)
Insurgent by Veronica Roth
As war surges in the dystopian society around her, sixteen-year-old Divergent Tris Prior must continue trying to save those she loves--and herself--while grappling with haunting questions of grief and forgiveness, identity and loyalty, politics and love.
Bitterblue by Kristin Cashore
Eighteen-year-old Bitterblue, queen of Monsea, realizes her heavy responsibility and the futility of relying on advisors who surround her with lies as she tries to help her people to heal from the thirty-five-year spell cast by her father, a violent psychopath with mind-altering abilities.
Serpent's Shadow by Rick Riordan
Despite their best efforts, Carter and Sade Kane can't seem to keep Apophis, the chaos snake, down. Now Apophis is threatening to plunge the world into eternal darkness, and the Kanes are faced with the impossible task of having to destroy him once and for all. Unfortunately, the magicians of the House of Life are on the brink of civil war, the gods are divided, and the young initiates of Brooklyn House stand almost alone against the forces of chaos.
Wednesday, October 26, 2011
Welcome to another monthly installment of NEW BOOKS! Here are the 2 dozen or so new books you can expect to see on the shelf by the end of the week of so (I know, I'm a little early this month, but I was worried I would be so busy with Zombie Prom that they would end up going out late if I put it off) Anyhoo, on to the books!
Cleopatra Confesses by Carolyn Meyer
Princess Cleopatra, the third (and favorite) daughter of King Ptolemy XII, comes of age in ancient Egypt, accumulating power and discovering love.
How to Make Friendship Bracelets by Veronique Follet
Here it is...everything you wanted to know about making friendship bracelets. Learn basic knots and 22 different designs!
Drawing from Memory by Allen Say
Allen Say's own story of his path to becoming the renowned artist he is today. Shunned by his father, who didn't understand his son's artistic leanings, Allen was embraced by Noro Shinpei, Japan's leading cartoonist and the man he came to love as his "spiritual father." As WWII raged, Allen was further inspired to consider questions of his own heritage and the motivations of those around him. He worked hard in rigorous drawing classes, studied, trained--and ultimately came to understand who he really is. Part memoir, part graphic novel, part narrative history, Drawing From Memory presents a complex look at the real-life relationship between a mentor and his student. With watercolor paintings, original cartoons, vintage photographs, and maps, Allen Say has created a book that will inspire the artist in all of us.
The Son of Neptune by Rick Riordan
Demigod Percy Jackson, still with no memory, and his new friends from Camp Jupiter, Hazel and Frank, go on a quest to free Death, but their bigger task is to unite the Greek and Roman camps so that the Prophecy of Seven can be fulfilled.
Posted by

Miss Gardiner
at 10:00 AM
No comments:


Labels: Allen Say, artist, biography, Carolyn Meyer, Cleopatra, craft, Egypt, friendship bracelets, Graphic novel, Greek, mythology, Percy Jackson, relationships, Rick Riordan, Veronique Follet, World War II
Wednesday, May 18, 2011

Carter and Sadie, offspring of the brilliant Egyptologist Dr. Julius Kane, embark on a worldwide search for the Book of Ra, but the House of Life and the gods of chaos are determined to stop them.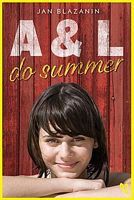 After a year in rural Cottonwood Creek, Iowa, city girl Laurel is still adjusting to a place where parties take place in barns, guys ride around in pickup trucks, and a killer senior prank involves getting pigs into the principal's office. Fortunately, she has her best friend Aspen, an Iowa native, to show her around. The real problem is that neither the country girl nor the city slicker have boyfriends—or any prospects for getting them. Clearly, they need to raise their profile—and they have a summer to do so.
When a consumer-driven future society runs amok, unleashing near-cosmic forces, Mal and Laura search for their families only to find that something or someone has erased them from the memories of everyone they have ever known.
Sixteen-year-old Molly Fraser works as a nurse with Florence Nightingale during the Crimean War to earn a salary to help her family survive in nineteenth-century England.
In medieval England, a nameless, homeless girl is taken in by a sharp-tempered midwife, and in spite of obstacles and hardship, eventually gains the three things she most wants: a full belly, a contented heart, and a place in this world.
Posted by

Miss Gardiner
at 8:23 PM
No comments:


Labels: childbirth, Crimean War, Egypt, England, Florence Nightingale, futuristic, Iowa, Jan Blazanin, Jesse Karp, karen cushman, midwife, mythology, nurse, relationships, Rick Riordan, summer, Susanne Dunlap