Thin Space by Jody Casella
Consumed by guilt and secrets about his twin brother's death, Marsh Windsor is looking for a thin space--a place where the barrier between this world and the next is thin enough for a person to cross over--in hopes of setting things right.
Never Fade by Alexandra Bracken
Ruby never asked for the abilities that almost cost her her life. Now she must call upon them on a daily basis, leading dangerous missions to bring down a corrupt government and breaking into the minds of her enemies. Other kids in the Children's League call Ruby "Leader", but she knows what she really is: a monster. When Ruby is entrusted with an explosive secret, she must embark on her most dangerous mission yet: leaving the Children's League behind. Crucial information about the disease that killed most of America's children-and turned Ruby and the others who lived into feared and hated outcasts-has survived every attempt to destroy it. But the truth is only saved in one place: a flashdrive in the hands of Liam Stewart, the boy Ruby once believed was her future-and who now wouldn't recognize her. As Ruby sets out across a desperate, lawless country to find Liam-and answers about the catastrophe that has ripped both her life and America apart-she is torn between old friends and the promise she made to serve the League. Ruby will do anything to protect the people she loves. But what if winning the war means losing herself?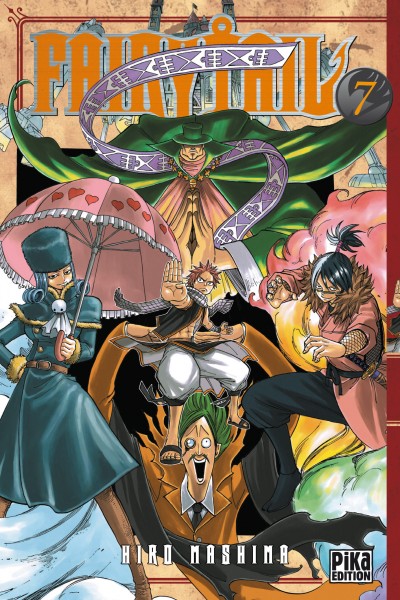 Fairy Tail vol. 7 by Hiro Mashima
Fairy Tail's rival guild, Phantom Lord, has taken the competition to dangerous levels by smashing the Fairy Tail building and nearly killing three wizards. What is Fairy Tail's response? A full-frontal assault on Phantom Lord! But this clash is all part of the Phantom Lord's evil plot to capture a coveted prize.
Bitter Kingdom by Rae Carson
The champion must not waver. The champion must not fear. The gate of darkness closes. Elisa is a fugitive. Her enemies have stolen the man she loves, and they await her at the gate of darkness. Her country is on the brink of civil war, with her own soldiers ordered to kill her on sight. Her Royal Majesty, Queen Lucero-Elisa née Riqueza de Vega, bearer of the Godstone, will lead her three loyal companions deep into the enemy's kingdom, a land of ice and snow and brutal magic, to rescue Hector and win back her throne. Her power grows with every step, and the shocking secrets she will uncover on this, her final journey, could change the course of history. But that is not all. She has a larger destiny. She must become the champion the world has been waiting for. Even of those who hate her most.
This Song Will Save Your Life by Leila Sales
Making friends has never been Elise Dembowski's strong suit. All throughout her life, she's been the butt of every joke and the outsider in every conversation. When a final attempt at popularity fails, Elise nearly gives up. Then she stumbles upon a warehouse party where she meets Vicky, a girl in a band who accepts her; Char, a cute, yet mysterious disc jockey; Pippa, a carefree spirit from England; and most importantly, a love for DJing. Told in a refreshingly genuine and laugh-out-loud funny voice, an exuberant novel about identity, friendship, and the power of music to bring people together.