Earth Girl by Janet Edwards
Just because she's confined to the planet, doesn't mean she can't reach for the stars. 2788. Only the handicapped live on Earth. Eighteen-year-old Jarra is among the one in a thousand people born with an immune system that cannot survive on other planets. Sent to Earth at birth to save her life, she has been abandoned by her parents. She can't travel to other worlds, but she can watch their vids, and she knows all the jokes they make. She's an "ape," a "throwback," but this is one ape girl who won't give in. Jarra makes up a fake military background for herself and joins a class of norms who are on Earth for a year of practical history studies excavating the dangerous ruins of the old cities. She wants to see their faces when they find out they've been fooled into thinking an ape girl was a norm. She isn't expecting to make friends with the enemy, to risk her life to save norms, or to fall in love.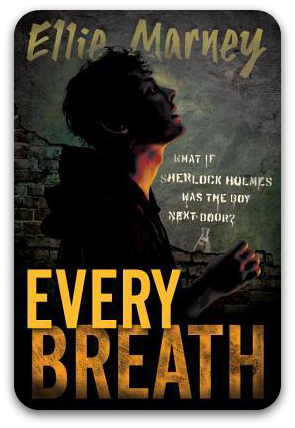 Every Breath by Ellie Marney
Rachel Watts is an unwilling new arrival to Melbourne from the country. James Mycroft is her neighbour, an intriguingly troubled seventeen-year-old genius with a passion for forensics. Despite her misgivings, Rachel finds herself unable to resist Mycroft when he wants her help investigating a murder. And when Watts and Mycroft follow a trail to the cold-blooded killer, they find themselves in the lion's den - literally.
A night at the zoo will never have quite the same meaning again...
Evil Librarian by Michelle Knudsen
He's young. He's hot. He's also evil. He's . . . the librarian. When Cynthia Rothschild's best friend, Annie, falls head over heels for the new high-school librarian, Cyn can totally see why. He's really young and super cute and thinks Annie would make an excellent library monitor. But after meeting Mr. Gabriel, Cyn realizes something isn't quite right. Maybe it's the creepy look in the librarian's eyes, or the weird feeling Cyn gets whenever she's around him. Before long Cyn realizes that Mr. Gabriel is, in fact . . . a demon. Now, in addition to saving the school musical from technical disaster and trying not to make a fool of herself with her own hopeless crush, Cyn has to save her best friend from the clutches of the evil librarian, who also seems to be slowly sucking the life force out of the entire student body!
The Eye of Zoltar by Jasper Fforde
Sixteen-year-old Jennifer Strange faces the impossible when the mighty Shandar emerges from his preserved state and presents her with a task that sends her and her companions on a journey from which they may never return.
Fad Mania: A History of American Crazes by Cynthia Overbeck Bix
Fad Mania! takes readers through a century of crazy fads in the United States--from swallowing goldfish to cramming phone booths and showing up for spontaneous flash mob events--providing a great snapshot of American popular culture.