Wild by Alex Mallory
Contemporary Fiction
The forest is full of secrets, and no one understands that better than Cade. Foraging, hunting, surviving--that's all he knows. Alone for years, Cade believes he's the sole survivor. At least, until he catches a glimpse of a beautiful stranger. . . . Dara expected to find natural wonders when she set off for a spring break camping trip. Instead, she discovers a primitive boy--he's stealthy and handsome and he might be following her. Intrigued, Dara seeks him out and sets a catastrophe in motion. Thrust back into society, Cade struggles with the realization that the life he knew was a lie. But he's not the only one. Trying to explain life in a normal town leaves Dara questioning it. As the media swarm and the police close in, Dara and Cade risk everything to get closer. But will the truth about Cade's past tear them apart?
Wildlife by Fiona Wood
Contemporary Fiction
Two sixteen-year-old girls in Australia come together at an outdoor semester of school, before university--one thinking about boys and growing up, the other about death and grief, but somehow they must help each other to find themselves.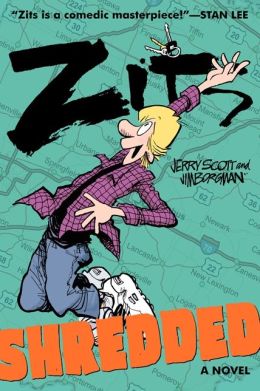 Zits: Shredded by Jerry Scott & Jim Borgman
Contemporary Fiction
Zits jumps from the comics page to the bookshelf, and Zits: Shredded is perfect for fans of James Patterson's Homeroom Diaries as well as the Zits comic strip!
Jeremy Duncan and his friends Hector and Pierce are hitting the road! That is, if they can squeeze enough french fries to get their newly veggie oil–powered van to Dog Tired Records in Sheboygan, Wisconsin. It's road trip time!
Zodiac by Romina Russell
Science Fiction
When a violent blast strikes the moons of Cancer, sending its ocean planet off-kilter and killing thousands of citizens, Rhoma Grace, a sixteen-year-old student from House Cancer, must convince twelve worlds to unite as one Zodiac against Ophiuchus, the exiled thirteenth Guardian of Zodiac legend, who has returned to exact his revenge across the Galaxy.
Zom-B Bride by Darren Shan
Science Fiction
B Smith has been reunited with the murderous maniac clown, Mr. Dowling. To her shock and consternation, he's desperate to make B his partner in crime. Mr. Dowling disgusts her, but B thinks she can see a way to control him and maybe even save the world. But it will involve a sacrifice far greater and more surreal than any she has contemplated before...
Zomburbia by Adam Gallardo
Action/Adventure
Displeased with her small-town life in Salem, Oregon, Courtney Hart sells drugs through the drive-thru at her job to earn enough money to run away to New York, while avoiding both the advances of boys in her high school and the town's ever-present zombiehorde.