Cool Nail Art: 30 Step-by-Step Designs to Rock Your Fingers and Toes by Hannah Lee
Nonfiction
Hannah Lee, creator of the YouTube Channel Hannah Rox Nails, shares more than thirty new nail designs in 'Cool Nail Art'. With tips on how to prep your manicure, clear step-by-step instructions and easy-to-use tools, you can create fabulous nail art designs in your own home.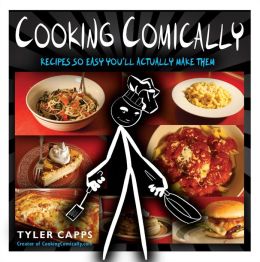 Cooking Comically: Recipes So Easy You'll Actually Make Them by Tyler Capps
Cooking should be as much fun as reading a comic book. Recipes should be cheap and easy. And the food has to taste good. That's where Cooking Comically comes in. Tyler Capps, the creator of recipes like 2 a.m. Chili that took the Internet by storm, offers up simple, tasty meals in a unique illustrated style that will engage all your senses. These dishes are as scrumptious to eat as they are easy to make.
Dead of Winter by Kresley Cole
Paranormal
In order to protect Jack from two of the most horrific Arcana, The Lovers, and the vast army they command, Evie leaves the comfort offered by Death and joins her allies in a frozen and perilous post-apocalyptic wasteland, but for her battle plan to succeed, she must persuade Death and Jack to work together.
Dearest by Alethea Kontis
Fantasy
When Friday Woodcutter, a kind and loving seamstress, stumbles upon seven sleeping brothers in her sister Sunday's palace, she takes one look at Tristan and knows he's her future. But the brothers are cursed to be swans by day. Can Friday's unique magic somehow break the spell?
The Driving Book: Everything New Drivers Need to Know But Don't Know to Ask by Karen Gravelle
Nonfiction
Even after taking Driver's Ed and passing that dreaded road test, there are so many things new drivers need to learn about the practical aspects of driving that will only come from experience. Handing over the keys is a traumatic rite of passage for parents, and they will sleep better knowing that The Driving Book is in their teens' glove compartments. Covering virtually every scenario a new driver may face, from changing a tire to negotiating privileges with parents to handling a car in bad weather, Karen Gravelle helps teen drivers navigate through tricky new territory—on the road and at home.
This reissue features updated information for today's tech-savvy teen drivers.