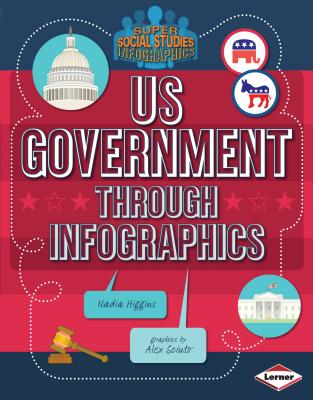 US Government Through Infographics by Nadia Higgins
Nonfiction
Trying to comprehend the US government can almost make your mind shut down. You need to understand how it stacks up to governments around the world (from democracy to dictatorship), how systems and laws change over time (years ago, women couldn't vote!), and who holds the power today (how do big decisions get made?).
What If I'm a(n) Atheist?: A Teen's Guide to Exploring a Life without Religion by David Seidman
Nonfiction
Can you have guidance without God? This thoughtful, one-of-a-kind guide offers answers to all of your questions about atheism and nonbelief. Have you ever wondered what religion and belief means for your life? Maybe you believe in nothing at all. Does that mean you're an atheist? What does atheism even mean? Regardless of the religious background you grew up with, it's natural to question what you believe...or what you don't. Establishing your views about religion and spirituality is part of becoming an individual, but outside pressures can make it tough to know what is right for you. What If I'm an Athiest? offers a thoughtful exploration of how atheism or the absence of religion can impact your life. From discussing the practical significance of holidays to offering conversation starters and tips, this guide is an invaluable resource about religion, spirituality, and the lack thereof. This compassionate, nonjudgmental guide includes peer interviews featuring both religious and atheist teens and provides a safe space to find answers to the questions you may not want ask out loud, so you can decide what you believe-or don't-for yourself.
The Winner's Crime by Marie Rutkoski
Fantasy
The engagement of Lady Kestrel to Valoria's crown prince is the event of a lifetime, but to Kestrel it means living in a cage of her own making, so as she aches to tell the truth about her engagement, she becomes a skilled practitioner of deceit and as a spy passes information and gets close to uncovering a shocking secret.
Wonder Woman vol 4: War by Brian Azzarello
Graphic Novel
Wonder Woman's world is shocked to its core when her eldest brother, the First Born, is freed from his slumber. Now, with her family in ruins and her friends scattered, she must turn to Orion and the New Gods of New Genesis to save herself and Zola's newborn from the First Born's wrath! Collects Wonder Woman #19-23.
Zeroboxer by Fonda Lee
Science Fiction
As seventeen-year-old Carr 'the Raptor' Luka rises to fame in the weightless combat sport of zeroboxing, he learns a devastating secret that jeopardizes not only his future in the sport, but interplanetary relations.