After Hours by Claire Kennedy
Contemporary Fiction
Scandals and hook-ups abound in a summertime restaurant drama where four teens are all willing to do whatever it takes to make it through the work day...and hopefully to win the money in the afterhours dare-based game of Tips.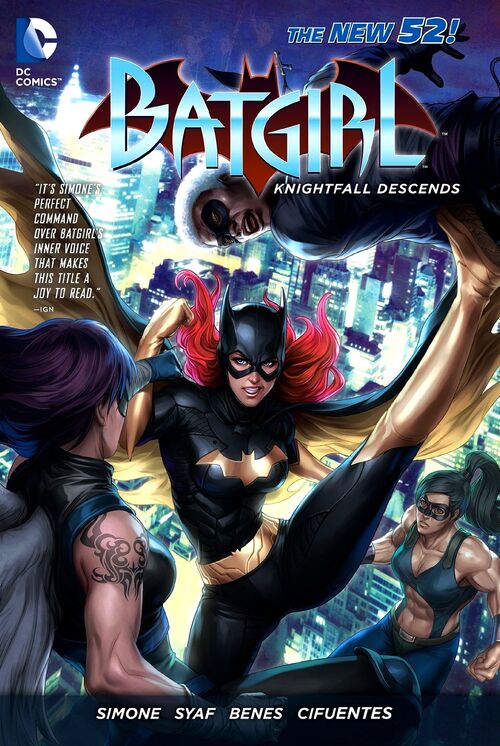 Batgirl vol 2: Knightfall Descends by Gail Simone, Ardian Syaf, Ed Benes, Vicente Cifuentes
Comic Book
Batgirl Barbara Gordon faces foe after foe now that she's back in the role of Batgirl. A deadly new gentleman killer, Grotesque, stalks the streets of Gotham City; The Court of Owls sets its sight on her father Commissoner Gordon; and an innocent woman sentenced to Arkham emerges more dangerous than the innmates she was locked up with!
A new chapter in the riveting adventures of Batgirl continue in stunning fashion, with script by fan-favorite Gail Simone and stellar art by superstar Ardian Syaf!
The Beast of Cretacea by Todd Strasser
Science Fiction
Aboard the Pequod, seventeen-year-old Ishmael arrives on the planet Cretacea to hunt down great ocean-dwelling beasts to harvest and send back to the resource-depleted Earth. But the ship's captain, Ahab, who lost his leg to the Great Terrafin years ago, is obsessed with hunting down the beast. The classic tale of Moby Dick as set in the future.
College, Quicker: 24 Practical Ways to Savey Money and Get Your Degree Faster by Kate Stephens
Nonfiction
her first day of college, Kate Stephens had no government aid, no private scholarships, no significant savings―and no idea how she was going to pay for her education. But she graduated with zero debt in just two years. Her secret? Finding faster, less expensive ways to earn credits toward her degree.
In College, Quicker, Stephens guides you to an affordable education, sharing practical tips on how to:
•Design your graduation plan. Are you still in high school? Already in college? Get the lowdown on how colleges' transfer credit policies work and sample schedules to organize your plan.
•Choose the credit-earning options that work best for you. Are you a good test taker? Do you feel cooped up in classrooms? Basics, benefits, and bottom-line financial savings help you weigh the pros and cons of each option.
•Get started now! Hit the ground running with step-by-step instructions plus insider tips, common mistakes to avoid, and bonus opportunities.
Dark Shimmer by Donna Jo Napoli
Fantasy
A retelling of Snow White from the evil step mother's point of view as fifteen-year-old Dolce grows up on islands in a Venetian lagoon where she learns how to make mirrors, but when her mother dies she is taken in by a widower and his daughter while she secretly continues making mirrors and slowly goes mad from mercury poisoning.