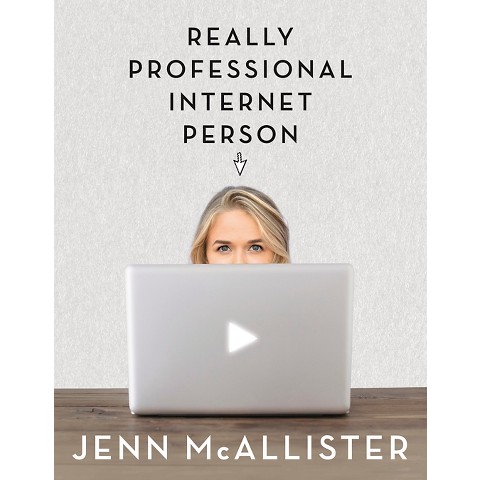 Really Professional Internet Person by Jenn McAllister
Nonfiction
Jenn McAllister, better known as JennxPenn, has been obsessed with making videos since she found her parents video camera at the age of eight. A shy child, Jenn turned to film because, unlike with life, you can always have a do-over.
Really Professional Internet Person offers both an insider's guide to building a successful YouTube channel and an intimate portrait of the surreality of insta-fame and the harsh reality of high school.
Brimming with honesty, heart and Jenn's patented sense of humor, Really Professional Internet Person features top ten lists, photos, screenshots, social media posts and never-before-posted stories chronicling Jenn's journey from an anxious middle-schooler just trying to fit in, to a YouTube sensation unafraid to stand out.
The Rest of Us Just Live Here by Patrick Ness
Paranormal
What if you aren't the Chosen One? The one who's supposed to fight the zombies, or the soul-eating ghosts, or whatever the heck this new thing is, with the blue lights and the death? What if you're like Mikey? Who just wants to graduate and go to prom and maybe finally work up the courage to ask Henna out before someone goes and blows up the high school. Again. Because sometimes there are problems bigger than this week's end of the world, and sometimes you just have to find the extraordinary in your ordinary life. Even if your best friend is worshipped by mountain lions.
The Rose Society by Marie Lu
Science Fiction
Once upon a time, a girl had a father, a prince, a society of friends. Then they betrayed her, and she destroyed them all. Adelina Amouteru's heart has suffered at the hands of both family and friends, turning her down the bitter path of revenge. Now known and feared as the White Wolf, she and her sister flee Kenettra to find other Young Elites in the hopes of building her own army of allies. Her goal: to strike down the Inquisition Axis, the white-cloaked soldiers who nearly killed her. But Adelina is no heroine. Her powers, fed only by fear and hate, have started to grow beyond her control. She does not trust her newfound Elite friends. Teren Santoro, leader of the Inquisition, wants her dead. And her former friends, Raffaele and the Dagger Society, want to stop her thirst for vengeance. Adelina struggles to cling to the good within her. But how can someone be good, when her very existence depends on darkness?
The Shepherd's Crown by Terry Pratchett
Fantasy
Deep in the Chalk, something is stirring. The owls and the foxes can sense it, and Tiffany Aching feels it in her boots. An old enemy is gathering strength.
This is a time of endings and beginnings, old friends and new, a blurring of edges and a shifting of power. Now Tiffany stands between the light and the dark, the good and the bad.
As the fairy horde prepares for invasion, Tiffany must summon all the witches to stand with her. To protect the land. Her land.
There will be a reckoning…
The Survival Guide to Bullying: Written by a Teen by Aija Mayrock
Nonfiction
NEW, updated edition! Written by a teenager who was bullied throughout middle school and high school, this kid-friendly book offers a fresh and relatable perspective on bullying. Along the way, the author offers guidance as well as different strategies that helped her get through even the toughest of days. The Survival Guide to Bullying covers everything from cyber bullying to how to deal with fear and how to create the life you dream of having. From inspiring "roems" (rap poems), survival tips, personal stories, and quick quizzes, this book will light the way to a brighter future. This updated edition also features new, never-before-seen content including a chapter about how to talk to parents, an epilogue, and an exclusive Q&A with the author.