The Girl Who Never Was by Skylar Dorset
THE GIRL WHO NEVER WAS is the story of Selkie Stewart, who thinks she's a totally normal teenager growing up in Boston. Sure, her father is in an insane asylum, her mother left her on his doorstep—literally—when she was a baby, and she's being raised by two ancient aunts who spend their time hunting gnomes in their Beacon Hill townhouse. But other than that her life is totally normal! She's got an adventurous best friend who's always got her back and an unrequited crush on an older boy named Ben. Just like any other teenager, right? When Selkie goes in search of the mother she's never known, she gets more than she bargained for. It turns out that her mother is faerie royalty, which would make Selkie a faerie princess—except for the part where her father is an ogre, which makes her only half of anything. Even more confusing, there's a prophecy that Selkie is going to destroy the tyrannical Seelie Court, which is why her mother actually wants to kill her. Selkie has been kept hidden all her life by her adoring aunts, with the help of a Salem wizard named Will. And Ben. Because the boy she thinks she's in love with turns out to be a faerie whose enchantment has kept her alive, but also kept her in the dark about her own life.
The Unfinished Life of Addison Stone by Adele Griffin
When a celebrated New York City teenager, known for her subversive street art, mysteriously dies, her life is examined in a series of interviews with her parents, friends, boyfriends, mentors, and critics.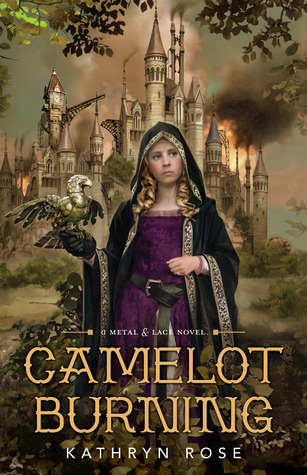 Camelot Burning by Kathryn Rose
By day, Vivienne is Guinevere's lady-in-waiting. By night, she's Merlin's secret apprentice, indulging in the new mechanical arts and science of alchemy. It's a preferred distraction from Camelot's gossipy nobility, roguish knights, and Lancelot's athletic new squire, Marcus, who will follow in all knights' footsteps by taking a rather inconvenient vow of chastity. More than anything, Vivienne longs to escape Camelot for a future that wouldn't include needlework or marriage to a boorish lord or dandy. But when King Arthur's sorceress sister, Morgan le Fay, threatens Camelot, Vivienne must stay to help Merlin build a steam-powered weapon to defeat the dark magic machine Morgan will set upon the castle. Because if Camelot falls, Morgan would be that much closer to finding the elusive Holy Grail. Time is running out and Morgan draws near, and if Vivienne doesn't have Merlin's weapon ready soon, lives would pay the price, including that of Marcus, the only one fast enough to activate it on the battlefield.
Zom-B Mission (#7) and Zom-B Clans (#8) by Darren Shan
B Smith and the other Angels are relieved to finally receive their first mission - to safely escort a group of human survivors from the zombie-infested streets of London to New Kirkham, a barricaded safe haven in the country. But after battling through crowds of undead monsters, B discovers that the survivors of the town don't necessarily represent the best of humanity. And when evil influences make their way to New Kirkham, unearthing demons from B's past, the humans will be forced to choose between being honorable and being safe. (Zom-B Mission)
Jane, The Fox, and Me by Fanny Britt & Isabelle Arsenault
Hélène is an outcast in her grade. Her only consolation is reading Jane Eyre. Even seeing a lovely fox doesn't make her feel better, but maybe a new friendship will.